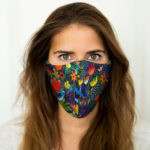 Reusable Face Masks
A little bit of color can make people smile. And we need this smile very much now! Colorful reusable face masks have a beautiful pattern on the outside. Our masks are made 100% in Poland, EU.
It is a reusable product. You can wash it at 60 degrees. The masks have a sewn-in soft elastic ear loops that keeps them in the right place even when moving intensively. Our protective colorful reusable face masks cover the nose, mouth and chin.
Protective masks reduce the spread of droplets and thus reduce the risk of infection. The masks protect us against pathogenic microorganisms from the outside and also our relatives (during our illness). They also make us touch our face less often. They are not made for personnel working in infectious diseases ward. The use of a mask does not guarantee complete protection against virus infection (including coronavirus), but using them properly reduces the risk. Protective masks also protect people in our environment as we can transmit the virus unconsciously without having any symptoms.
Since we have to cover our face, let's choose color! Colorful, fashionable reusable masks can become an interesting addition to your wardrobe. We have masks with great works of art, masks with animals, masks with flowers and many more – find something for yourself!