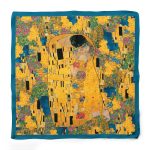 Square Scarves
Colorful square scarves from Cacofonia is a beautiful addition to your everyday style. There are many ways to wear silk scarves!
The only limit is your imagination: you can tie a scarf not only around the neck, but also wrap around a hair band, around the wrist or around the handle of your purse. Every day is a new way! Neckerchief match both the sporty look and the elegant style. Scarves with works of art, floral bandanas, square scarves with animal motifs – find something for yourself! It's also a perfect gift idea.
Cacofonia colorful scarves are sewn over the edges with overlock thread to prevent fraying. Elegant fabric (rayon) is printed on both sides. The product is sewn and entirely made in Poland, European Union.