In the age of online shopping, we definitely cannot complain about a lack of options for gift giving. On the contrary, we are rather overloaded with them… We spend a lot of time browsing through pages and it is difficult for us to find something that we will be really happy with. That's why we created this gift box.
We want to help you find the perfect gift. In our store you will find many designs and several cuts of clothes, as well as accessories. It would also take you a long time to check out all of them. We want to make it easier for you: check if your loved ones belong to any of the groups listed below and find their dream gift quickly and easily.
A gift for those who're always cold:
Are you looking for an autumn gift?
We all know someone who is always cold. The perfect gift for a cold person is a warm scarf … made of fleece. Many of you may associate fleece with a warm, but not very pretty sweater that you put on when you go skiing, or an unfashionable single-color scarf. That is a thing of the past!
Our fleece fabric is extremely pleasant to the touch, soft, and the scarf has beautiful, durable, double-sided print. The scarf is finished with fringes on the short side and, most importantly, has a small wooden button that allows you to turn it into a warm fashionable poncho. Two in one! Isn't that a great gift?
Check out our scarves / ponchos.

Who doesn't like to wrap a warm sweatshirt around them? A sweater so nice to the touch that you want to cuddle up in it? And when it comes to a beautiful unique pattern, we probably have the perfect sweatshirt!
One of our customers wrote on her social media:
That's probably the best sweater I have.

This sweater's a dream! ❤️  and a half because I don't have to iron it, and I put it on straight after taking it out of the packaging.
Some people prefer hoodies, zip up hoodies, others prefer sweaters. Here you will find these two versions, and each sweatshirt has a soft cotton nap inside, visible in the middle photo. Our sweatshirts are perfect for both women and men – it's a unisex cut.
Check out our hoodies

Check out our jumpers

Check out our zip up hoodies
A very practical gift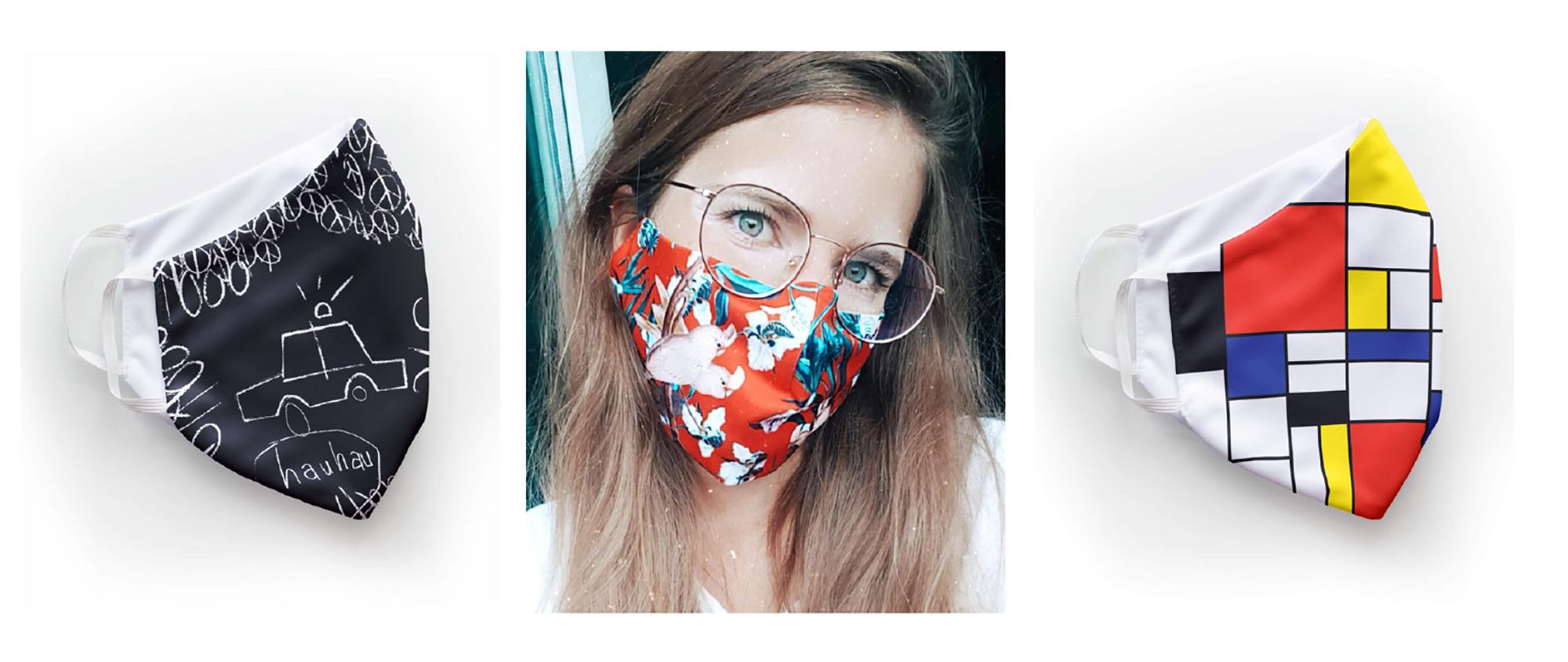 It looks like masks will continue to be a part of our lives for some time. Since we have to wear them, we can sometimes afford a bit of extravagance and instead of a plain mask, put on one with a bold pattern. You can find multi-use colored masks with various patterns.
Each ordered reusable mask is printed and sewn especially for you in our sewing facilities near Łódź, in accordance with the hygiene regulations. The masks cover the nose, mouth, and chin. They adhere well to the face under the eyes, which makes them comfortable to wear with glasses (reduced fogging). They are nicer to the touch than non-woven fabrics. Available in sizes S (for children and those with small faces) and L (for all others).
Check out our reusable colorful masks
A gift for travelers
Or maybe some of your relatives are going on vacation soon? When we freeze during the autumn and winter frosts, some sunbathe on a beach somewhere on the other side of the globe. And for them, there will be a beautiful as well as useful gift.
The perfect gift for a traveler: a colorful multifunctional scarf that takes up very little space when folded. Our scarf is perfect as an addition to an evening dress, a delicate handkerchief or bandana, or even a colorful wraparound skirt for the beach (pareo). You can tie it in many ways! The soft fabric protects the skin from the sun and wind. The double-sided print is extremely durable and resistant to fading. The fabric feels like silk. The scarf is sewn with a colored thread, which prevents the material from fraying.
Check out our wraparound skirts/pareo
The beachside? A picnic in the bosom of nature? A lake pier? You have to sit on something, and lying down is even better. We have something that's not "harsh",pleasant to the touch, and visually attractive at the same time. After all, it must look cool on photos 😜 And what if we tell you that you can use it to wipe yourself dry after a bath, and that it dries quickly? Our large beach towel, which can also be used as a picnic blanket, is a great gift for travelers. Or for a couple – there's enough space for two!
Check out our beach towels
A gift for those who like be active and comfortable 

A woman close to you goes to the gym? Does she dance? Or maybe she does yoga? Regardless of the type of activity, colorful leggings will come in handy. Our leggings are made of lightweight sports material produced in Poland: a breathable, quick-drying fabric that absorbs sweat. It'll fit your shape perfectly!
The new year is approaching, which means there will be new resolutions. Such a gift can be a great motivation to finally buy this gym membership!
And if she is not a fan of sports at all – no worries! To each their own. After all, you can also sit on the couch at home in stylish leggings, instead of in a worn out tracksuit 😜
Check out our colorful leggings
A gift for art lovers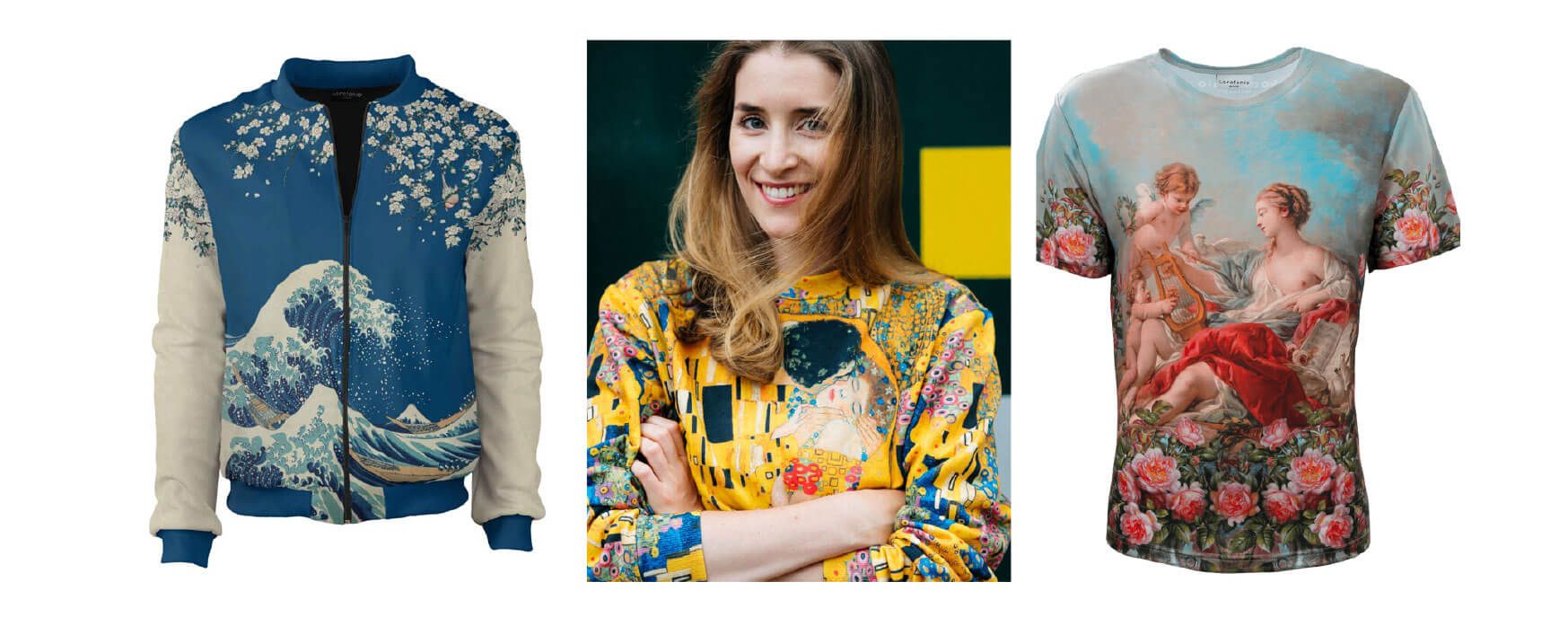 Who says that we can only see art in a museum? Do you have an artist in your family? Or maybe you just know an art connoisseur? Someone who likes to combine classic and modern styles? Go crazy and get them some clothes with art. Not a kitsch T-shirt with a sloppy image, but good quality clothing with a well-designed pattern inspired by art. And if they ask you about the copyrights, remember that the works we use are public domain. We do not break copyright laws.
Check out all of our clothes with art print
You will find quite a lot of clothes with art when you follow this link. So, if you already know what cut to choose, you can search for clothes in our main menu.
A gift for "Loving Vincent" fans
In the year of the premiere of the Oscar-nominated animated film "Loving Vincent", we established an official cooperation with the filmmakers. It was then that a mini-collection of clothes with a movie poster was created. If there is a fan of this Polish-British production among your loved ones, you already have the perfect gift.
Check out our entire Loving Vincent collection
A gift for cat lovers
We personally love cats so we just had to put them in our patterns. Choose the perfect cut and get your loved ones something special.
Check out our cat lover's gifts HERE
A gift for those who like skulls

All of us probably know or at least know someone who likes a good skull theme. Here you will find it in a slightly less dark version, referencing the Mexican Santa Muerte icon.
Check out our skull-themed clothes
A gift for those who want some vivid color in their lives
Well, here we could've just as well put a link to the main page of our store, as we have plenty of color 🙂 But this time we have prepared some of the most colorful suggestions among our clothes. If one of your loved ones loves intense colors and original color combinations, they will surely be satisfied with this selection!
Check out our most colorful patterns
A gift for those who love flowers and other plants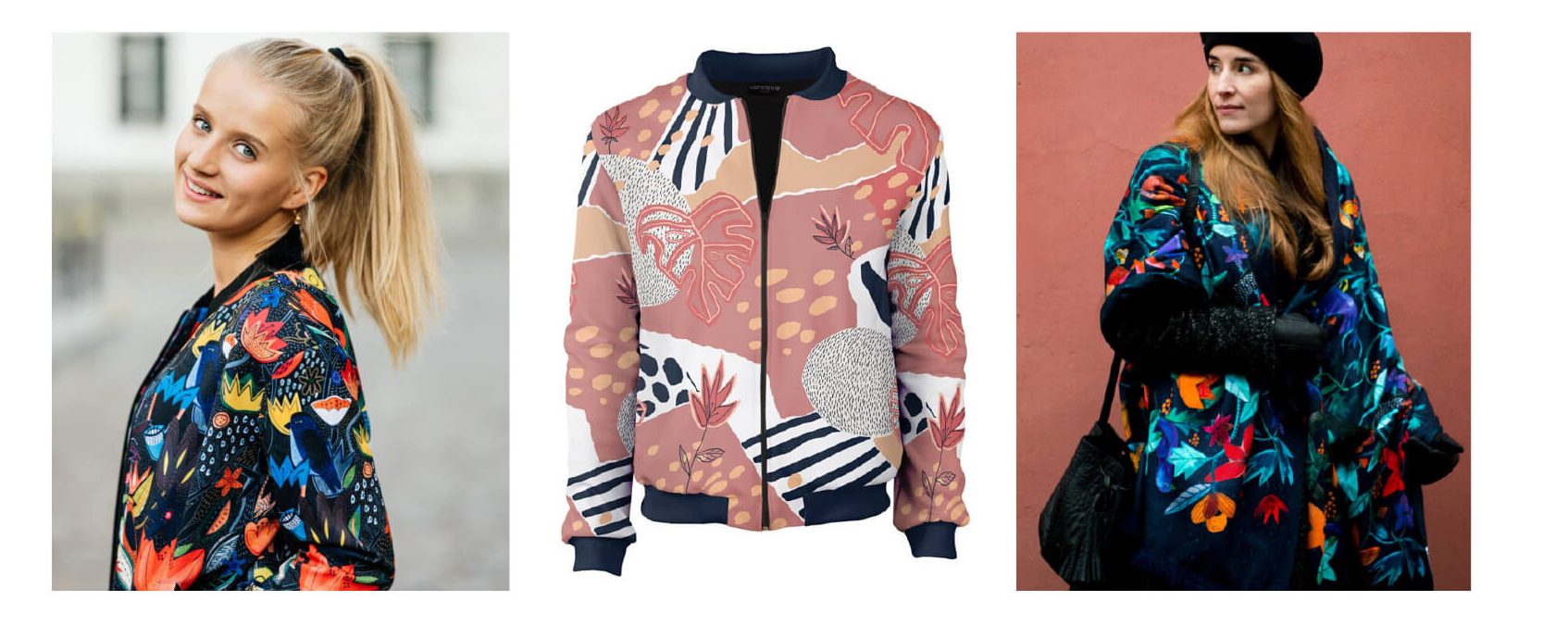 If you are looking for a gift for a plant lover, you don't have to limit yourself to buying a living plant. You can buy a beautiful pot, a guide to caring for plants, or a more original one: clothes with a plant motif. In addition to leafy motifs, you will also find many floral patterns.
Check out our plant-inspired patterns
A gift for an elegant lady
A scarf is a great gift for someone who focuses on subtlety in fashion, but wants to spice up their look with a unique accessory. Not sure which pattern to choose? Choose two! Remember that with us double-pack scarves are covered by a special promotion and are cheaper by -25% than those purchased individually.
How to tie scarves? You are limited only by your imagination: you can tie the scarf not only around your neck, but also wrap it around a hair elastic, around your wrist, or the handle of your purse. Every day is a new way! A scarf with works of art, a scarf with flowers, a scarf with animals – you will find it all at Cacofonia Store.
Check out our beautiful neckerchiefs
Plus-size gifts
Finally, we would like to remind you that we support plus-size fashion. We can sew all our clothes especially for you in large sizes: from 2XL to 4XL, 5XL or 6XL. So, we have plus-size women's T-shirts, plus-size men's T-shirts, plus-size sweatshirts, plus-size bomber jackets, and also plus-size leggings. If you're looking for a plus-size gift, you might get frustrated: unfortunately, many brands skip larger sizes. Fortunately for you, you will find what you are looking for in our shop.
Did you manage to find your dream gift in CACOFONIA Store?
We hope our gift box has made it easier for you to find your gift. For advice on choosing the right size, take a look at our FAQ section. Remember that if you have any doubts about this, you can write to us at store@cacofoniamilano.com. We will try to write back as soon as possible!
Remember also that we are a brand in the spirit of slow fashion. We sew our clothes especially for you when ordered and all our products are made in Polish sewing facilities. You can also find our estimated delivery times for individual garments in our FAQ section.
Keep that in mind and order your gift in advance!
If you are in a hurry, buy a Gift voucher (the virtual voucher is sent immediately to your email).
Happy shopping! 🙂