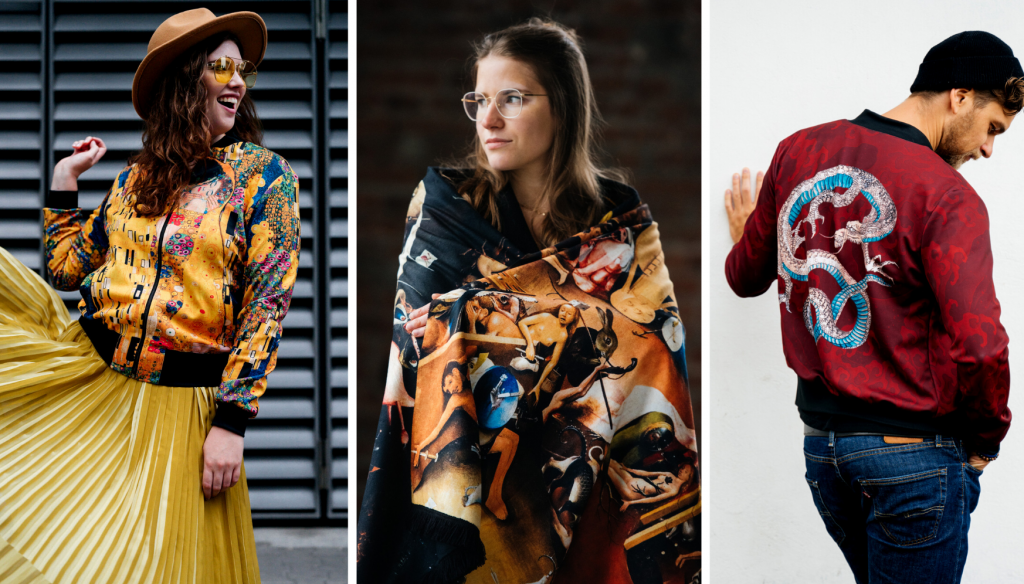 Clothes inspired by art
The CACOFONIA clothing brand team consists of art school graduates, photographers, film lovers and other people who share a passion for art. Our patterns are divided into two categories: one is those designed especially for us by talented artists. We look for inspiration together with them, and then our creative designers implement them into projects that you will not find anywhere else, because they are printed especially for us. The second category is clothing inspired by the history of art: inspiration of the works of the world's greatest artists. We make Great Art go to the streets – literally. Famous paintings become an inspiration for unique patterns, thanks to which you can get to know the works of some great painters and cartoonists better.
Gustav Klimt's "Kiss" in a new version – our Kiss Klimt jacket
"Kiss" by Gustav Klimt, Austrian painter, one of the most eminent representatives of the Art Nouveau, representative of Viennese modernism. You have certainly seen this image in various places and in various forms – our designer, on the other hand, tried to get the best out of it. She kept a beautiful essence (center of the work), and to the sides (instead of a brown, uniform background) she added many original motifs, known from Klimt's works. Here and there, among the yellow leitmotifs, there is also a beautiful blue one. Abroad, Kiss Klimt jacket was popularized by celebrity Sebastian Klussmann.
HERE you can find all CACOFONIA clothes with Kiss Klimt pattern.
Baroque painter flowers on your sweatshirt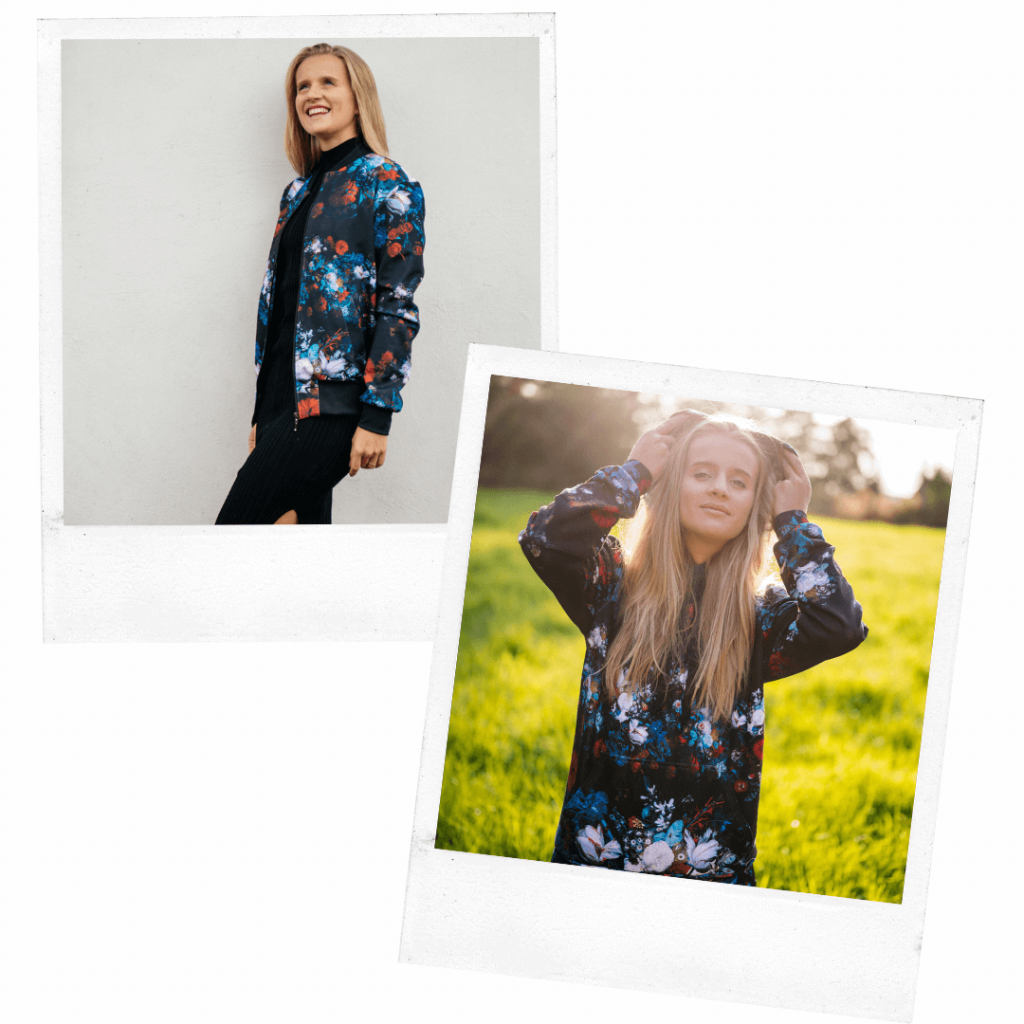 At first glance – just a jacket with beautiful, colorful flowers. However, they also have artistic value! This print is inspired by the painting of Jan van Huysum, a Dutch baroque painter. When designing the floral Still Life pattern, our designers drew on the still lifes of the Dutch artist, slightly emphasizing the colors of the flowers, so that the clothes attracted with their vivid color.
HERE you can see all CACOFONIA clothes with the Still Life pattern (including a floral bomber).
Great Hokusai Wave on original clothes
Who doesn't know the Big Wave in Kanagawa? Japanese artist Hokusai Katsushika created this woodcut as the first work in a series of 36 views of Mount Fuji. We offer the Big Wave clothes in two variants, as patterns: "Wave of Flowers" and "Great Wave". The first one, visible in the photos, apart from the famous Wave, also contains delicate floral drawings on clothes, also taken from the works of Katsushika.
HERE you can see all CACOFONIA clothes with the Great Wave and Wave of Flowers pattern.
Egon Schiele's drawings as an inspiration for the Egon Hands pattern

Navy blue sweatshirt with white, delicate drawings. Among them are hands from the works of Egon Schiele, an Austrian painter and graphic artist who lived in the years 1890-1918. Egon Schiele is associated with a characteristic representation of limbs. Apparently, all the hands in his paintings and drawings – including those of models and models – are images of the painter's hands! Our Art-inspired clothes with the Egon Hands pattern are not only the mentioned sweatshirt, but also many other cuts.
HERE you can see all CACOFONIA garments with Egon Hands design
Bosch's Garden of Earthly Delights – fashion for the brave ones
The Garden of Earthly Delights is another design in which we decided to take care of slightly more intense colors than on the original work. Apart from that, however, you have the option of wearing the unchanged central part of the Hieronymus Bosch triptych, created around 1490. This detailed work, currently in the Prado Museum in Madrid, has an impressive size: 220 x 390 cm. We recommend taking a closer look at its details – if you do not have the opportunity to do it in a museum, maybe on our iconic jacket or a scarf inspired by art?
On our blog you will find an article about the secrets that a skilled eye will see in the Bosch painting.
HERE you can see all CACOFONIA clothes with the Garden of Earthly Delights pattern.
Scarves inspired by art
Our scarves look especially beautiful with patterns inspired by art. Therefore, apart from the other designs mentioned here, a few works are available only on our warm decorative shawl: for example, part of Bosch's triptych entitled "Hell", or the beautiful painting "Field of poppies" by Claude Monet, a French painter, one of the creators and leading representatives of impressionism. So if you dream of a Monet scarf, look no further!
THERE you can see all our CACOFONIA scarves, a perfect idea for an original gift.
Inspiration from Alfons Mucha – fashion and art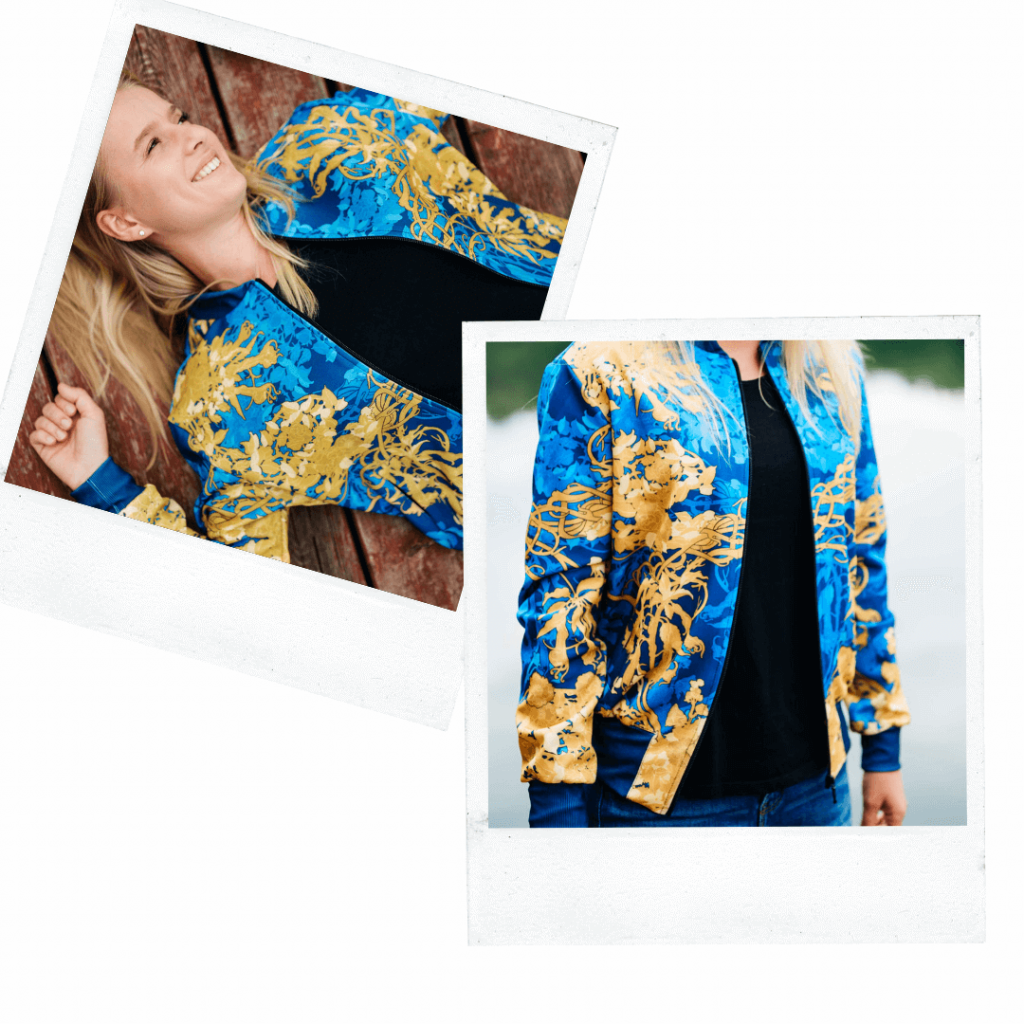 This is one of those patterns that, at first glance, may not be associated with a well-known work. And yet, it is inspired by art too! The elements visible on clothes with the "Tree of Gold" pattern are taken from the works of Alfons Mucha, one of the leading representatives of Art Nouveau and fin de siècle. So if you dream of a jacket with an original pattern, you've come to the right place!
HERE you can see all CACOFONIA clothes with the Tree of Gold pattern.
Baroque angels on a bomber jacket – Boucher
Francois Boucher and his characteristic angels – this could not be missing from our collection of clothes inspired by art. Boucher is a French painter and decorator, one of the most famous representatives of Rococo. He worked for King Louis XV, the Marquise de Pompadour, royal manufactories and many private collectors. Our designer made sure that the central element of the painting, Allegory of Music, was visible on the clothes. On the outskirts, however, she painted roses that give the composition a unique look. Do you like cupids on clothes? See all the cuts of clothes with our Allegory of Music pattern.
HERE you can see all CACOFONIA clothes with the Allegory of Music pattern.
Dragon jacket inspired by Japanese art.
Red Dragon is our pattern in shades of red, another one referring to the art of the Japanese artist Hokusai Katsushika. On the back of the jacket there is a dragon inspired by his works. The popular Great Wave gently breaks through the entire surface of the pattern. Fashion and art – unite!
HERE you can see all CACOFONIA clothes with Red Dragon Hokusai pattern.
Scarves with Mondrian's rectangles
Everyone knows these colorful squares and rectangles. Patterns inspired by the paintings of Piet Mondrian, one of the precursors of abstract art, have already appeared on many catwalks. We also introduce them to streetwear, offering you colorful bombers with Mondrian rectangles, sweatshirts, T-shirts and scarves.
HERE you can see all CACOFONIA clothes with Mondrian pattern.
The Birth of Venus in liliac version – William-Adolphe Bouguereau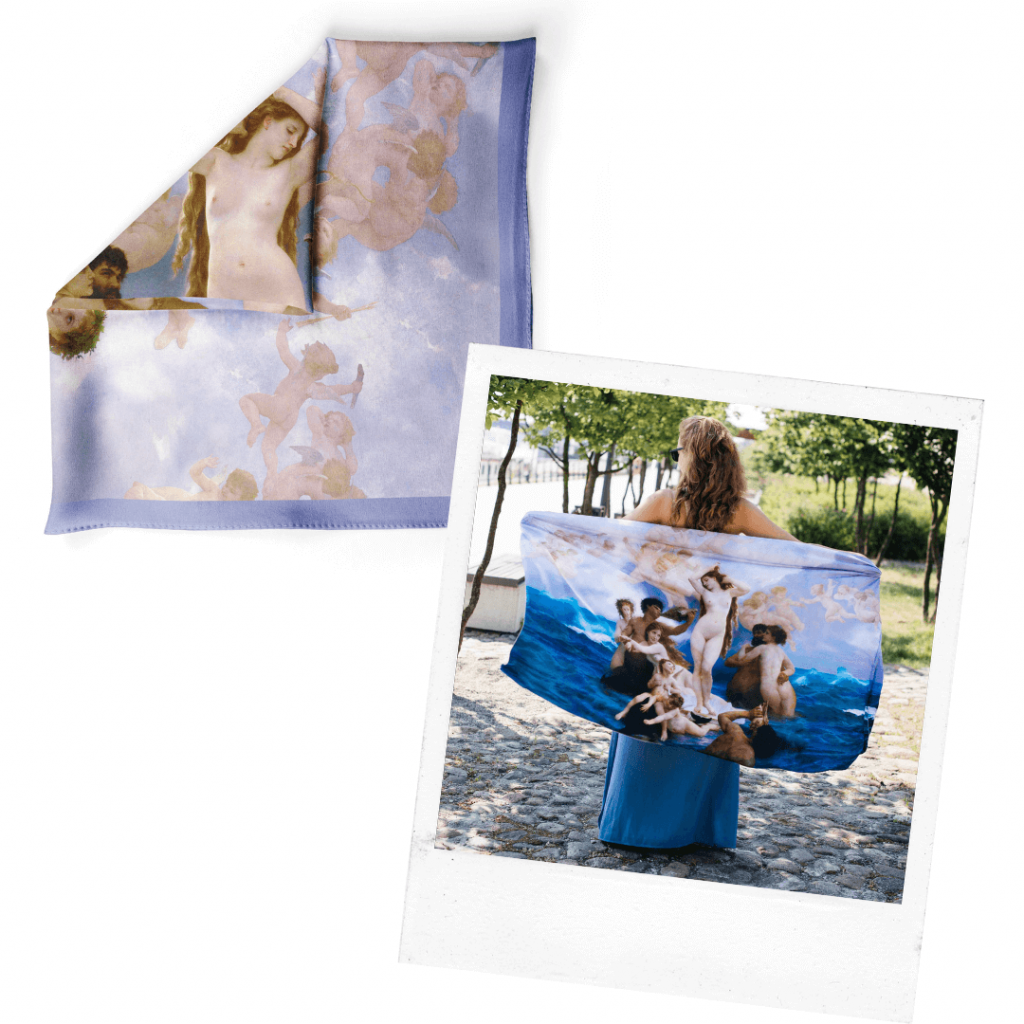 The Birth of Venus is a popular theme in art. Also on our clothes it appears in different colors and variants, inspired by various artists. One of them is William-Adolphe Bouguereau. He is a French painter, a representative of academism. He painted large figural compositions on religious, mythological and historical topics. His version of The Birth of Venus looks particularly beautiful on our art-inspired scarf.
HERE you can see all CACOFONIA clothes with different variants of the Birth of Venus pattern.
Modern Venus on a bomber jacket
Another option on the Birth of Venus is our modern variation on the theme. In this pattern, the iconic Venus emerges from the streets of New York. The inspiration is a fragment of the painting "The Birth of Venus" by Sandro Boticelli – an Italian painter who created in the early and mature Renaissance period. This is the perfect jacket with Venus for those who like unconventional combinations in fashion.
HERE you can see all CACOFONIA clothes with different variants of the Birth of Venus pattern.
The Swing – rokoko painting on clothes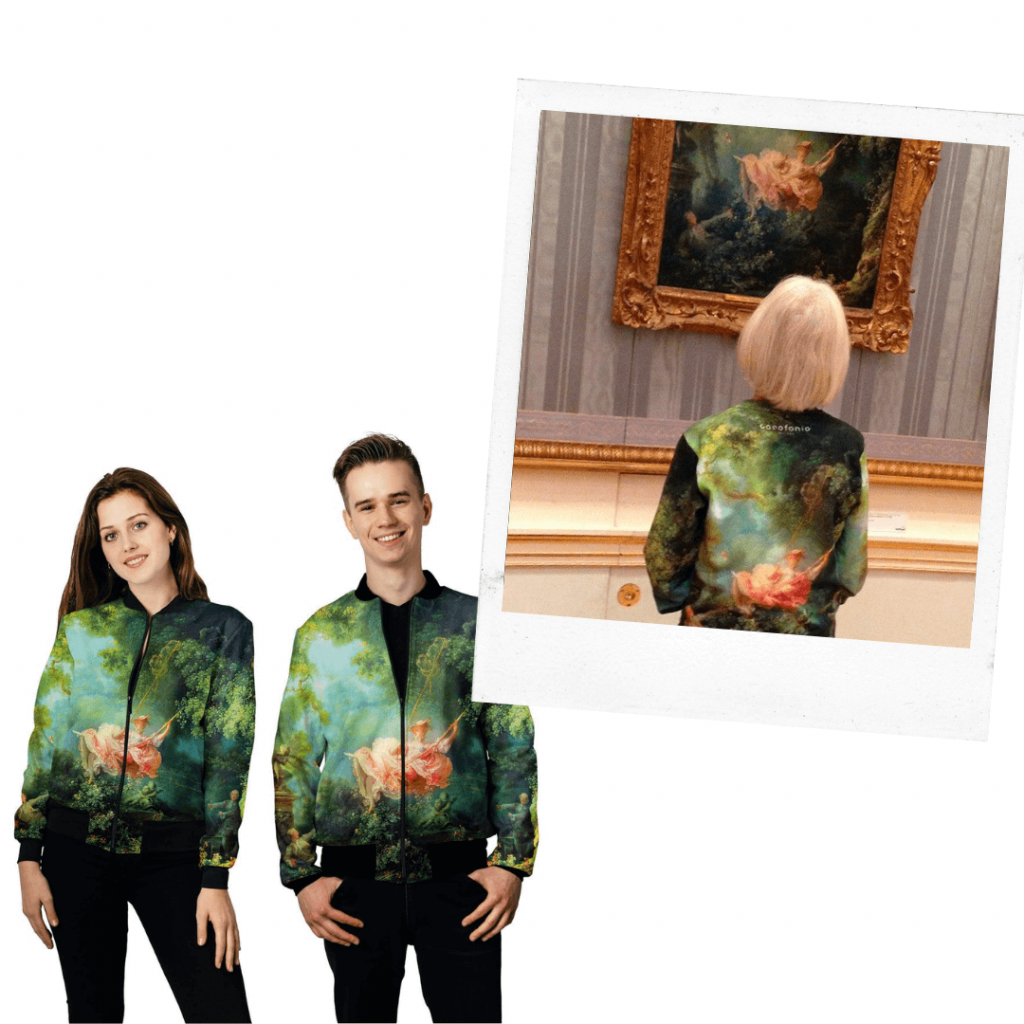 A bit of pure classic this time: the painting "The Swing" by Jean Honore Fragonard, a Rococo painter who lived in the years 1732-1806. The works of the French artist are characterized by an excellent sense of the role of light. Green jackets with art and sweatshirts with art will ensure that you will not pass unnoticed.
HERE you can see all CACOFONIA clothes with different variants of the Swing pattern.
Breakfast of the Rowers – t-shirt with paintings
Our interpretation of another famous work: Breakfast of the Rowers. The original painting was authored by August Renoir, a French painter and sculptor, one of the leading representatives of Impressionism. Our designer drew the sides of the pattern so that the composition would look beautiful on the clothes.
HERE you can see all CACOFONIA clothes with different variations of the Rowing Breakfast pattern.
Vincent Van Gogh and fashion – Loving Vincent bomber jackets
This unique pattern is the result of the official cooperation of the brand with the creators of the film "Loving Vincent", the first full-length animated film using the painting technique in the world. The Cacofonia team decided to celebrate this Polish-British undertaking by creating a special collection with the figure of Vincent Van Gogh from the poster of the film Loving Vincent. The animated film about Van Gogh deserved its collection: Loving Vincent! Clothes or accessories with this pattern make a great gift for an artist.
HERE you can see all CACOFONIA clothes with different variants of the Loving Vincent pattern.
Polish streetwear brand – made in EU
CACOFONIA is a brand that goes against the ubiquitous fast fashion – fashion, that's generating tons of clothes and thus causing enormous pollution of the environment.
Our clothes are sewn to order, with attention to the smallest detail. Starting from designing patterns – some of them are entirely handmade – through the process of printing patterns on fabrics and ending with sewing in a Polish sewing room.
Although you can not get CACOFONIA products made to order as quickly as clothes from chain stores – the group of our (satisfied!) Customers is constantly growing, expanding to more countries. It's remarkably enjoyable to us and motivates us to continuous development!
HERE you can read more about how our clothes are made.
Perfect gift for an artist
Do you have an artist in your family? Or maybe you just know an art connoisseur? Someone who likes to combine classic and modern? Go crazy and give him clothes with art. Not a kitschy T-shirt with a sloppy image, but good quality clothing with a polished pattern inspired by art. And if he does ask you about copyright, remember that the works we use are in the public domain. We do not break copyright.