Why did we decide on using synthetic materials?
While deciding which material to use, we found one criterion to be especially important for us: print quality. All our patterns are designed by Polish artists specifically for you and on demand. In other words, we don't buy pre-printed materials in bulk. Every single piece of clothing is being cut, printed on, and sown only after you've placed your order. As we aim to guarantee the most realistic color palette, high quality print, as well as long-lasting and durable materials for a fair price, we decided to use a new type of high-quality synthetic knitted fabric made in Poland, EU.
Of course, this type of material has its benefits and drawbacks.
What are the advantages of synthetic materials? High tensile strength, high elasticity (no more ironing!), beautiful vivid colors in print, quick drying, resistance to sunlight, allergic reactions are much less common than with other fabrics, and moths, fungi or bacteria cannot spread.
Some natural materials (such as cotton) perfectly absorb moisture, but also dry very slowly – which makes the clothes sticky and unpleasant to the touch. In this case, the right synthetic fabric will be just the right thing: light, flexible, and sweat-wicking. Importantly, the right synthetic fabric is also extremely durable (some of them are characterized by a 3 times greater resistance to mechanical damage compared to natural materials). We have heard many times that our bomber jackets (88% polyester, 12% elastane) are almost indestructible. Thanks to this, they will serve you for a long time – and this is the model we want to promote. Buying less often, but making it last longer! Choosing durable clothes, and when minor signs of use show, repairing them instead of throwing them away. The planet will be grateful to us for this attitude.
We won't lie to you – synthetic materials also have their disadvantages: they have a fairly low hygroscopicity, which means they can charge electrostatically and are quite flammable (so be careful around bonfires!). On the other hand, when it comes to the impact of materials (both synthetic and natural) on the environment, that's a more extensive topic and maybe one day we will devote some time to explore it in another post, after consulting with a specialist. Remember that even the once praised cotton turned out to be not so "perfect" – as much as 25% of all insecticides in the world and 10% of pesticides and artificial fertilizers are used for traditional cotton cultivation. In articles demonizing polyester it is mentioned that this material takes a long time to decompose in nature – yes, it is true, if left in the forest it will take a long time to decompose, but if it comes from the right place, it is 100% recyclable. In some countries, such as Japan, there are dedicated recycling centers that only recycle clothes.
If one day linen or another natural fabric is created (that's 100% good for the environment), which can be sublimation-printed (currently only synthetic materials can be sublimated), we will be the first to be interested in it. For now, we are doing what we can, using proven Polish suppliers of knitted fabrics, acting in the spirit of slow fashion and constantly checking new solutions for you (currently we are looking for good synthetic fabrics from recycled materials produced in Poland).
Not all polyester is created equal
There are polyester clothes that are unbearable – we're not gonna lie. Such clothes are made of poor-quality material, often imported from China. There's no breathing room in them, you sweat, they're shiny (but not in a good way), it's a nightmare! Among other things, such poor-quality products have made a bad name for all polyester products. But not all polyester is created equal! There's low-grade polyester and high-grade polyester. We use the latter 🙂
Our materials are produced in Poland. Most of our synthetic clothes have the same properties as sports clothes: they are made of a breathable knitted fabric that quickly absorbs moisture from the human body, dissipates it quickly, and dries quickly as well. Note that professional athletes never train in cotton clothes. They play sports in synthetic and breathable clothes (including T-shirts!).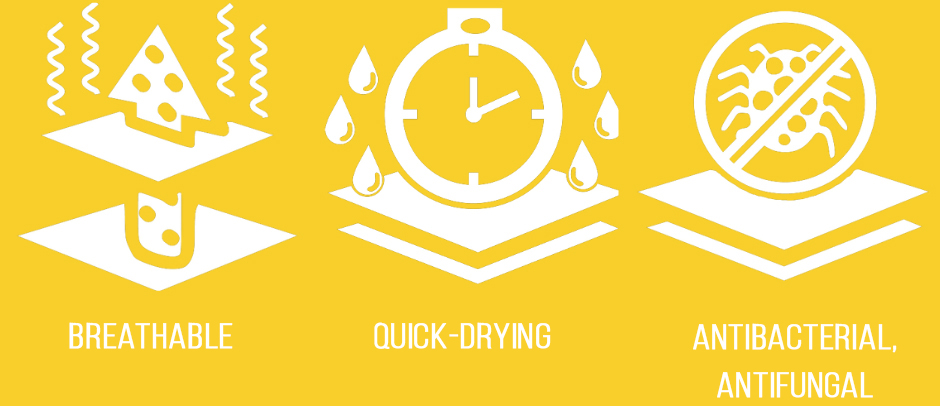 Fabrics made in Poland
We order our materials in Łódź (Poland) from a family company established in 1971. Years of experience have made them well-versed in the knitted and woven fabrics market. They focus on quality: both in the materials produced and in customer service, which makes them a trustworthy partner. We use knitted fabrics that are produced at their home in Łódź, ensuring the highest quality. The components of knitted fabrics (yarn) are obtained from the best foreign suppliers. Our bomber jackets are made with great zippers from the Japanese company YKK, which also has a branch and a large factory in Poland.
Synthetic materials with a significant admixture of cotton

Nevertheless, we constantly look for new materials to meet your expectations. And so our hoodies and sweaters are made of extremely soft and pleasant to the touch knitted fabric with a significant helping of cotton – hence, on the inside they have a soft cotton fluff. However, be aware that such a fabric is more susceptible to mechanical damage and creasing than 100% synthetic fabrics. Remember to wash it inside out and avoid Velcro/rough surfaces that could cause friction. This willmost certainly increase the lifespan of your sweater. HERE you can read How to take care of (our) clothes?
We hope that we could make our processes a little bit more transparent for you. If you still have doubts, check out the Facebook reviews of our products or go on Etsy for more international reviews and opinions.