FAQ
Do I have to register?
No, there is no obligation to register on our website, but we do encourage it, as it provides certain benefits. An account facilitates the ease of any future purchase, allows us to save your transaction history, and gives you a chance to win discounts.
How much time do I have to pay for the order?
The payment needs to be completed within 24h from when the order was placed. Orders that are not paid for in 24h will be cancelled.
Are you shipping to…?
We are shipping to almost every place in the world. If your country is not on the list in checkout, contact us, we'll figure it out 🙂
How much is the shipping?
Price for express shipping by DHL Express or Priority Letter depends of your address. All prices are visible in checkout.
What size do I need?
We have two types of products in our assortment – unisex and dedicated to women's/men's figure.
Women's and men's t-shirts have specially tailored cuts and classic, typical sizing. 
Leggings have quite a typical women's sizes as well. However, if you hesitate between two sizes, choose the larger one.
Bomber jackets, hoodies and jumpers are a unisex product – it is worth remembering when ordering.
The size of the jumpers and hoodies is similar to the male sizing chart. In this case, if a man is buying a M size jumper, then the size of S will be the equivalent for a woman.
Bomber jackets are a special case here: we advise that men order a larger size than he wears every day, and women a smaller size.
If you are unsure of your size – measure your clothes (flat!) and compare the dimensions with our sizing chart. Of course, you can write to us at store@cacofoniamilano.com – we will be happy to advise you.
How do I measure myself?
You are not sure of your Cacofonia size? Measure your clothes in an easy and quick way. It is best to take clothes of similar cut from your wardrobe and measure them with a tape on the table (measure flat – this is how our clothes were measured). Please note that the measure of the sleeve is given from the neck, not from the shoulder.
Always check your size with the data in our sizing chart, which you can find in on the page of each product.
How long does the shipping take?
We are trying to send out every order as fast as possible. Remember that our products are made to order. We are sewing it for you with attention to every detail, in Poland, Europe. Printing the material and sewing the product takes about twenty working days.

We try to ship all orders as quickly as possible. Remember that our orders are sewn individually after the client orders, with attention to every detail. Printing the fabric and sewing the product take us between 5 and 20 working days, depending on the type of clothing.
Women's and men's t-shirts, crop tops, reusable masks, pareo scarves, square scarves, warm scarves, leggings and beach towels: ready to ship in 5-19 working days.
Jumpers and hoodies: ready to ship in 8-19 working days
Bomber jackets: ready to ship in 10-19 working days
Bags: ready to ship in 20 working days
In the current situation (due to the coronavirus), in exceptional cases, there may be slight delays of several days. However, we are doing everything to deliver your clothes on time 🙂
We are there for you: you want to order our product as a gift? You need fast shipping? Contact us via e-mail at store@cacofoniamilano.com. We will do our best!
Can I track my order?
Of course! After all, we want you to know what's happening with your order – you can track every step of the delivery from the order to the final arrival at your home.
How can I pay?
You can choose from the following list of payment options:
Credit card (by Paypal)
Paypal
Choose your payment option in the order form and complete the payment according to the information you received. If you have any problems with payment, please contact us.
Is my credit card information secure and confidential?
All transactions are secure and encoded. We use the safest online payment system available and no credit card information will be archived.
Can I get discounts?
We believe that there are people among our clients, who we can inspire and be inspired by. That's why the most important thing to us, is the contact with you.
We want to build a community around Cacofonia, as well as give you the opportunity to get some discounts.
It's easy – just be present! Send us pics of yourself wearing our products, comment, and take part in our contests, which will be announced on Facebook and Instagram.
Check out also if at this moment we have a discount code for subscribing to our newsletter!
How do I place an order?
After picking the product(s) of your choice (pattern, color, and size) just add it to your SHOPPING CART. After you've closed your shopping list, add your personal information and shipping address. Make the payment and you're done!
If you want to be a part of our community, feel free to register. During all future shopping sprees your information will be added automatically for your convenience, and don't forget to check if all typed information is correct. In case you need to change the shipping address, you can easily do while updating your profile information.
How can I change my order?
If you change your mind on your order, please contact us via the contact form or write us an email as soon as possible. store@cacofoniamilano.com We will then change your order. It is important to keep in mind that you should inform us about any changes as quickly as possible, because such a delay may result in undesired complications.
Will I receive a confirmation email after placing my order?
Yes, you will receive an email with the confirmation of your order with every order placement. It doesn't matter whether you are a registered client or not, you will always receive an overview of the order with all essential details. We always want you to be in the loop when it comes to the current status of your order.
I placed my order but I did not get a confirmation email, why?
If you filled out and placed your order correctly, you will definitely be sent a confirmation email including the order number. Before informing us, please, check your SPAM. In case you really did not receive a confirmation email, please, contact us at store@cacofoniamilano.com
How can I use my discount code?
If you have a discount code, while placing your order, click here:
write the code here: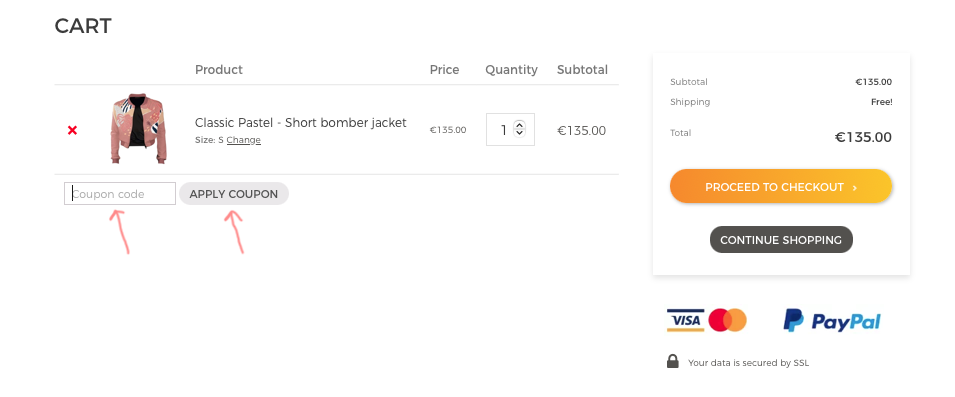 and click APPLY COUPON. That's it! 🙂
Why did we choose to work with synthetic materials?
Our decision making process was mostly guided by one criterion: the quality of the printed image. In order to ensure the most realistic transfer image considering color, the quality of the printed images and patterns, but simultaneously maintaining a high level of durability and an appropriate price, we decided on using a new, soft, high quality polyester fabric. This type of material has its benefits and drawbacks.
What are the benefits of synthetic materials? They are stretch-resistent, highly elastic (putting an end to ironing!), transfer colors beautifully from image to fabric, dry quickly, resistant to the effects of sunlight, cause significantly less allergic reactions than other fabrics, are resistant to moths, fungi and bacteria. The drawbacks: low hygroscopy, easily pick up static electricity, are flammable (so, watch out for camp fires!)
However, we are constantly looking for new materials to meet your expectations. And so our hoodies and jumpers are made of very soft and pleasing fabric with a significant blend of cotton.
You can read more HERE.
My order arrived, but something is wrong. what do I do?
That's rather the exception and would be quite surprising. Please, contact us at store@cacofoniamilano.com, if something did in fact go wrong with your order. We would like to kindly ask you to do the following when you contact us.
Subject matter: "complaint, order number"
We will pay close attention to your case, and we will probably ask you to send back the faulty goods. Depending on our agreement we will reimburse you via bank transfer (you will receive the full price of your purchase) or we will exchange your faulty product for a new and sound one.
Can I exchange my order?
Yes but exchange to a different size will result in a high cost for you to return the items do Poland. This is why we always try to advise you with perfect sizing 🙂
If the product is too small/too big anyway, please contact us.

Can I return my purchased product?
Before your purchase, please, always make sure you order the product you really want ?
If you do change your mind, though, or the long awaited product does not satisfy you, you are allowed to return the product within the next 30 days after reception. Please keep in mind that in order for the return to be legitimate the following conditions apply:
the product must not show any signs of usage and has to be in the condition of reception.
the product has to have its original packaging and all original labels.
please, attach the return formulage
You will be reimbursed within the next 30 days after receiving the package.
For the details about refunds, please check out our store rules and regulations.
CACOFONIA does not take responsibility for incorrectly sent or addressed packages. Please, make sure the package and its contents are safely protected. We encourage the tracking of all packages sent back and forth. Any costs related to the return of a package are to be paid by the person returning the product. Contact us store@cacofoniamilano.com
Due to the fact that we do not have stock and every clothing is sewn to individual order for a specific customer – we are forced not to accept returns and exchange when ordering from one customer exceeding two clothes.
Please, remember that we do not accept packages that are delivered via "e-parcels" or parcel locke
Do you make custom products?
No, we exclusively sell products made by CACOFONIA. On the other hand, if you are an artist, who's interested in working with us, feel free to write us an email!
How can I contact you?
SHOP/ORDERS/PAYMENTS:
store@cacofoniamilano.com
NEWS/BUSINESS/COLLABORATIONS/ADVERTISING:
juliacacofonia@gmail.com