View more photos
Folk Flowers – Bomber jacket
Product advantages
Product description
Garden of Eden – bomber jacket – classic version.
Folk turquoise bomber jacket with flowers. Elements of the Garden of Eden pattern were drawn by hand by the artist from the Academy of Fine Arts Agnieszka Głód.
All sizes xs s m l xl xxl 3xl 4xl 5xl
INFORMATION
100% original artwork

classic and comfortable cut

two exterior pockets and zipper closure

one inside pocket

excellent quality fabric and sewing

high quality premium fabric: 88% polyester, 12% elastane – perfect for colorful print

entirely handmade in the European Union (in Poland) from European-made fabrics

available sizes: XXS, XS, S, M, L, XL, 2XL, 3XL, 4XL, 5XL, 6XL
PRODUCT CARE
our clothes are digitally printed with original ecological textile sublimation inks that ensure an amazing quality of the printed images and a greater half-life of colors, which are quite resilient to washing machines
wash in cold water (30°C) in delicate fabric mode or hand wash in cold water
smooth, delicate fabric. Please, treat carefully and keep away from abrasive surfaces, as well as fire
Size chart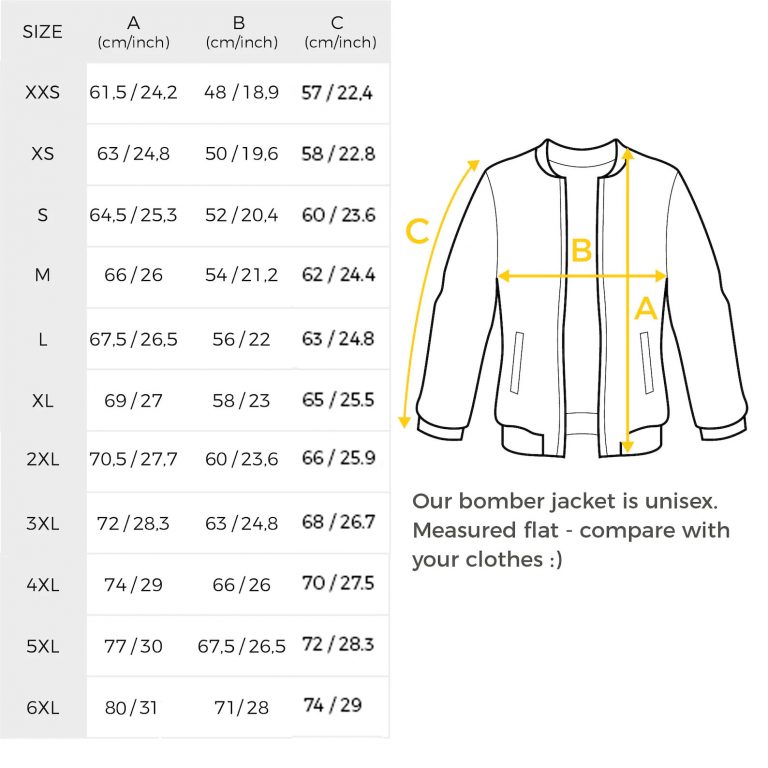 Convenient returns & Shipping rules
Convenient returns
If you do change your mind, though, or the long awaited product does not satisfy you, you are allowed to return the product within the next 30 days after receiving it. If you are buying for the first time, be sure to confirm the selected size by email with our store ([email protected]). Details on returns can be found in the FAQ and in our store regulations. Remember: CACOFONIA does not have in a permanent offer and in all cuts and patterns clothes in non-standard sizes: 4xl, 5xl and 6xl. Clothes ordered individually in these large non-standard sizes are not exchangeable or refundable.
Cancellations
We don't accept cancellations. When the order is paid we start manufacturing your order, i.e. cutting the fabric and printing. If it's your first order, we will contact you from stor[email protected] to confirm the size and finish your order.
Shipping rules
The shipping price depends on the place of delivery. Select your country in the cart and the price will appear. Buyers are responsible for any customs and import taxes that may (but not have to) apply. We are not responsible for delays due to customs.